Pristina, 19 April 2021 – Director of Transport Community Permanent Secretariat (TCT) Matej Zakonjšek met today with the Minister of Environment, Spatial Planning and Infrastructure Liburn Aliu to discuss ongoing regional initiatives and potential for closer cooperation.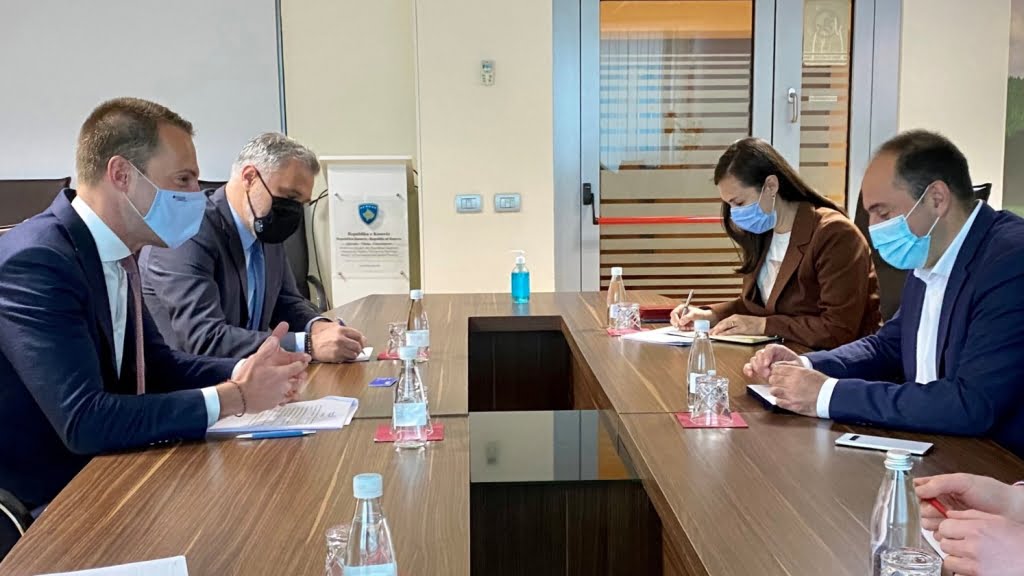 "The first meeting with Minister Aliu was a very productive one. We discussed implementation of TCT Action Plans which were endorsed by Ministers of our six regional partners. I informed the Minister about our initiatives to mark the European Year of Rail – the first Western Balkans Rail Summit, which will put focus on needed reforms and projects in the region. We are thankful for the support we received from all relevant authorities to organise a major event like this," Zakonjšek said.
The Transport Community Permanent Secretariat will continue supporting creation of a common regional rail market. Zakonjsek and Aliu reviewed progress on regional rail market opening and the need to strengthen human resources in rail sector. Given the small size of the rail market and the inability of each regional partner to develop sustainable and profitable rail system, the only solution is opening at the regional level. This will create additional incentive for enhancing cooperation between infrastructure managers, but also for the railway undertakings which will be able to compete on the regional and EU level in the future.
Regarding transport facilitation, one-stop/integrated border/common crossings were highlighted by both interlocutors as one of the concrete steps that will further strengthen regional cooperation and bring benefits to both business and people. Transport Community is actively supporting the establishment of one-stop crossings, as the most advanced example of regional cooperation that will shorten waiting times, make travel easier and reduce travel costs.
Furthermore, Minister Aliu and Director Zakonjšek reviewed progress on flagship projects highlighted in the European Commission's Economic and Investment Plan, such as "Peace Highway" linking Nis and Pristina, as well upgrading railway route connecting Pristina and Belgrade.
Another important point raised by Director Zakonjšek was road safety. Even though the numbers of fatal accidents are reducing, authorities need to take appropriate measures and implement actions foreseen in TCT's Road Action Plan in order to bring the fatality rate to zero, Zakonjšek noted.